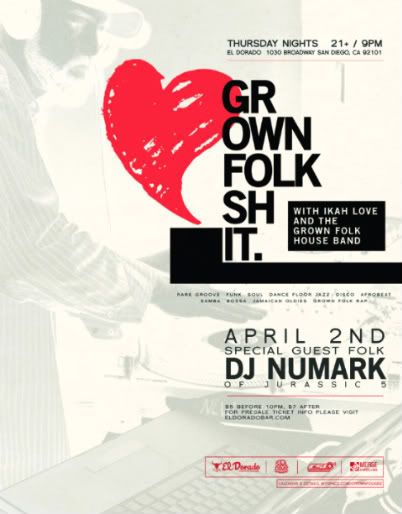 Peace kin folk.
Hope everybody is well. The
Grown Folk Shit
parties have been real super rad. Give thanks to everybody who has come through and checked us out so far. If you have been by El Dorado on a Thursday, you will most likely have noted that the Grown Folk House Band is cracking as well. If you have yet to come by, don't trip... The band is there every week, along with really super duper rad djs. Take
this coming Thursday
for example, when
DJ Nu-Mark of Jurassic-5
drops in for a very special guest set.
Nu-Mark is perhaps best know for his work as co-producer and dj (along with Cut Chemist) for the gold selling group
Jurassic-5
. He was also a key figure in the late 90s DJ explosion, which really re-positioned the joc at the forefront of not only hip hop culture but the greater collective international consciousness. Having toured the globe with Jurassic-5, as well as on his own, performing at some of the worlds largest and most prestigious music festivals - Coachella, Bonnaroo, The UK's Reading Festival, and Japan's Summer Sonic - Nu Mark has really put a lot of time and hard work into developing his creative and groundbreaking DJ routines. Over the last two decades your dude has taken his record collecting real serious too, having built a, surely enviable, collection of over 35,000 pieces. In 2004 Nu Mark started releasing his own projects with the instrumental 'Blend Crafters Vol. 1' record and his 'Hands On' mix-cd. More recently, Nu has produced tracks for various other artists, including his J-5 comrade Chali 2na and an truly amazing remix of the classic Pharcyde tune '4 Better Or 4 Worse'. Currently working on his new album, Nu Mark is clearly as busy as ever, so we really want to thank the guy for taking time out of his day recently to discuss his work, his plans for the future, and some of his thoughts on djing and record collecting with GFS resident grown ass dj Ikah Love. Peep the technique:
IKAH LOVE:
Congratulations, it's seems as though you've been a consistently busy dude over the last 10 or so years. What sort of stuff have you been involved in recently?
NU MARK:
I just produced a song with Pharoahe Monch and a group out of Australia called Hilltop Hoods for their album.  I produced a joint on DJ Revolutions album.  I produced a song called Epiphany for a group out of D.C. called Panacea.  I just produced a remix for Pharcyde called "4 Better or 4 Worse".  I did two songs on Chali 2na's album.  The latest greatest is that I'm working with Saturday Night Live's writers and Andy Samberg on the Lonely Island album that just came out!  I produced two songs on the album......excited about that!  These are the guys that made "Dick In The Box" and "Jiz In My Pants" that you see on SNL.  Funny Stuff.  I'm about a 3rd of the way done with my album.......that's gonna take a while.

IKAH:
You've had a pretty amazing career already. Are there special moments or highlights that particularly stand out in your memory?

NU:
It's tough to say because there's been a lot of unexpected highlights.  I'm proud of being able to sell close to 200,000 records independently with J5 after many, many labels turned us down.  I'm happy that I've had a chance to work with Big Daddy Kane and the Beatnuts.  I trip out on how successful the movie Scratch was.  I still think it's an important documentary.  I really like what Shadow, Cut and myself did for the "Pushin' Buttons" song for Shadows album.  I've always enjoyed "Swing Set" and "Acetate Prophets"...those songs took a very long time to create.

IKAH:
How about the version of John Lennon's 'Imagine' that you did on the 'Blend Crafters' record... That song is not only an unlikely tune for a hip hop producer to cover, but the result is sooo good. How did that come about?

NU:
It was my idea to cover it because the record I used in the production was amazing.  It just felt right.

IKAH:
You've had the chance to play all over the world to so many different crowds and types of people. Do you feel djing abroad has in any way informed how your approach to djing here in the U.S., or in general?

NU:
Yes, it's opened my eyes to electronic sounding beats.  The states is a little less open to genre's such as Dub Step etc..  Europe likes dance songs where the states gravitates more towards rugged Hip Hop and Rock.  It's fun to take influences from both.

IKAH:
Can you put a finger on what it is about djing a party that still gets you open?

NU:
Umm, I still really enjoy blending songs together.  I also really enjoy the idea of being able to select a song people haven't heard in a while and play it in my own special way or blending two songs from a great era.

IKAH:
With all of your experience, do you have an opinion on what makes a good party, or one that's particularly fun to play?

NU:
When people dance and drink.....it's a party.  When people just stare at the DJ it's more of an exhibit.  I like to see people having fun personally.

IKAH:
Word up. How long have you been collecting records? Do You remember the first record you bought?

NU:
I've been collecting for 24 years.  My first record I was given was Monster Mash the Halloween record but the first record I purchased was U.T.F.O. Roxanne Roxanne.

IKAH:
What do you think it was that got you into collecting?

NU:
In the eighty's DJ's were judged on their ability to play dope records.  The scratching thing was brand new and it was more about your song selection and being able to simply keep up with all the great music being generated by all genere's at that time.  Rock, New Wave and Hip Hop were at an all time high!!

IKAH:
That's super cool to hear somebody who is maybe known to specialize in one area, talk about the value of keeping up with everything, including things perhaps outside of that area of expertise. Are there things that you collect that might surprise your average fan?

NU:
Well I try to collect really bad music that just makes people laugh...you know.  I like bad demos and quirky songs.  Lately I've been really into Bulkan music.....Borat type shit.

IKAH:
Is there a section of your record collection that you are most proud of?

NU:
I'm proud of my Soul and Hip Hop collection for the most part.

IKAH:
The film 'This Is The Life' which documents the late 80s, early 90s community surrounding the Good Life Cafe was recently released. How closely involved were you in that community?

NU:
Well, I was really occupied with my DJ crew at that time (Bum Rush Productions) but we kept hearing about the Good Life Cafe and how some of L.A's dopest mc's would perform there every thursday.  Finally we went down there and were simply blown away at the creativity our city displayed.  We were DJ'n so much on the other side of L.A. that it was tough for us to get to the Good Life but the times we were there were amazing.  I met Cut Chemist around that time and that's when things changed for me and Hip Hop became my career.  The movie is off the chain.  I highly reccommend it to anyone who likes creativity.

IKAH:
It seems to me, that in the last couple of years there are a couple places where people want hip hop to fit comfortably. On one hand you have the pre-eminent 'ring tone rap' artist... On the other hand you have an emerging category of 'scenester rap' with artists like The Cool Kids and Kid Cudi. At the same time you have the commercial success of genuine funk and soul acts like The Dap-Kings... Something that you might expect to precipitate the resurgence and success of more roots oriented hip hop acts such as Jurassic-5. do you think an artist pushing the kind of sound and references that J-5 did could sign to a major and make a real career for themselves in today's market?

NU:
Ahh, it's all Hip Hop to me.  I really dislike categorizing and spreading this music thin with all the labels etc...The states needs to have such logical/mathmatical answer to what a group sounds like and where they fit.  Creativity is more vast than that.  Sometimes there is no "why or what".  Sometimes these groups have a sound never heard before and you can't compare it but people find securtiy in sayin it's a blend of this and that.  Not sure about a group like J5 fitting into todays commercial market.....just not sure.  I've always been terrible at predictions though.  We were fortunate to have impecable timming with our independent movement!  I think people always crave something different and cutting edge as it pertains to the underground.  Even if a new group blends many different sounds together the people begin to say that this artist is the next big thing even if they fizzle out in 3 months.  I think that the majors are mostly looking for pop acts these days due to the terrible condition of the industry.  There are exceptions with some of these smaller inprints though.  The internet is the strongest tool outside of touring these days for underground music.

IKAH:
You have a pretty strong presence on the interweb yourself. There are, in particular, a lot of youtube clips of you on tour doing the stuff with the MPC and the toy instruments. Can you explain a little bit about what you're doing there?



NU:
Yeah, well I started re-wiring some of output jacks of my old and new musical toys so  they can play through my mixers.  The goal was to fill the stage up with innovative toys that could make for a dope performance.  I have old toys like the Chimp with the cymbals (he plays the cymbals like a metronome while I tap out a beat on a drum machine).  I have newer toys like the Music Blocks that actually have a bar of music that plays on each side of each cube.  You'd have to see it in action.  Each side of the cube has a different shape......so stars are piano
lines, circles are bass lines and I do a routine with two Music blocks and my mixer in the middle.  I have mini turntables, mini keyboards and much, much more.  It never ends...Lots of fun.

IKAH:
Are there any djs or artists that you are checking for currently?

NU:
Pacific Division (these cats are the truth)!! Dom Kennedy, Onra, Lonely Island and Bulkan Beatbox!

IKAH:
How about the future? What are your plans?

NU:
Just trying to get more beats placed in movies, television, albums and finsh what I started with my own album!
The party this Thursday April 2nd is $5 before 10 pm and $7 after. There are also a limited number of pre-sale tickets available for $5, which will be honored at the door all night. These pre-sale tickets are available now at El Dorado,as well as the following locations:

5 & A Dime
701 8th Ave
San Diego, CA 92101
5andadime.com

California Sound & Lighting
1919 San Diego Ave
San Diego, CA 92110
calsound.com
xoxoxo,
Grown Folk Management