Howdy!

This here is my first post, so let me introduce myself and explain what the heck I'm up to at good old EL Dorado! My government name is Lee Schneider and I play records around town by the name of DJ Groundloor. Been spinning all kinds of music for a decade, and I'm amped to be doing it for ya at the best bar in town.
My night with
Ikah Love
is called
YOUNG GUNS
and it goes down every 2nd & 4th Saturday of the month. If you're still reading, you might be wondering what the name is all about?? Well, lets just say we wanted the name to reflect a night thats gonna be a little wild, and a little young at heart!!
The music program will be top notch. You'll be intrigued by some of the finest dancefloor music from around the world, as well as a few familiar classics. To demonstrate, I concocted an exclusive mixtape with a few of my favorite new tunes. I PROMISE you'll find a couple tracks that you love! Check it:
Download: Young Guns Vol. 1 Mixed By Dj Groundfloor!!
(MP3)
Feel free to send us a myspace message if you wanna know the names of tracks:
www.myspace.com/younggunssandiego
Well now that I've talked up a big game, I hope you are curious enough to come find out why Saturdays at El Dorado are quickly becoming the most exciting and talked about nights in the city. This saturday we've got hometown heroes
Shark Attack
as our guest DJs. Bring your dancing shoes... and have your best buddies bring your extra pair, cuz this wild night will surely have your feet burnin'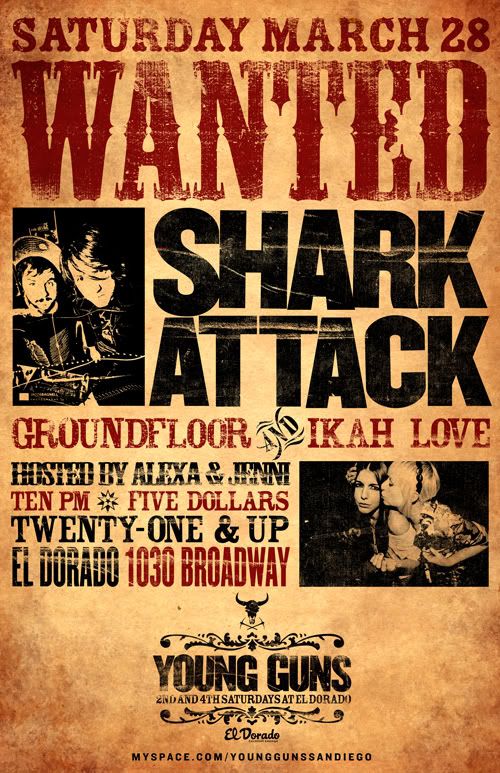 Send us an RSVP message at our
myspace
... See ya Saturday!!!
Lee aka DJ Groundfloor