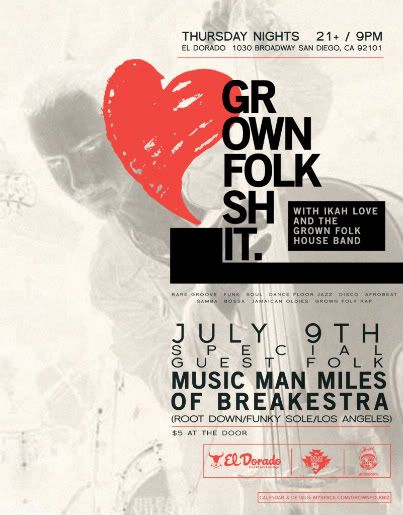 Before we get started here, I have to say WOW and thank you to everybody who came out for the Michael Jackson tribute this past Thursday... shit was fantastical! Merci beaucoup.
Also, I need to dedicate this one to the comrade
Charlie Rock
. Big up yourself for all the support duke!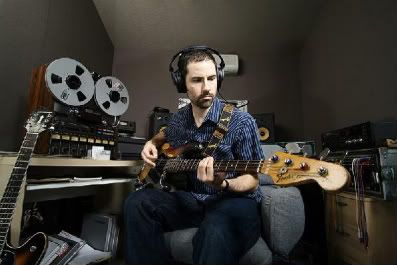 So this week's guest folk
Miles Tackett
is an extremely talented musician, songwriter, producer, joc and probably all other sorts of things that we aint even knowin about. He lists
'Bad News Bears
' among his favorite films and
Howard Zinn
's
'A People's History Of The United States'
as a fave book on his myspace page, so you know he's official.
I first got to know Miles' name from his production work on the expatriate rapper T-Love's
'Return Of The B-Girl'
EP in 1998. Shortly after that I caught a 7" from a group called
Breakestra
on the then still new Stones Throw record label. The record was pressed with with a single fiery funk tune stretched over two sides (
'Getcho Soul Togetha' parts 1 & 2
) and sounded like it could have been recorded in 1966. It also had dude's name on it as songwriter and producer. Trust, I was interested...
Miles also runs sound at a couple of proper funk/soul/live music parties in LA -
The Root Down
has been running for 10 years and has been a breeding/meeting ground for talent in a manner comparable to the storied Good Life Cafe (for more info on the GLC check our previous post with
DJ Nu-Mark
).
Funky Sole
has been going strong for 7 years with Miles and Egon of Stones Throw as resident selectors.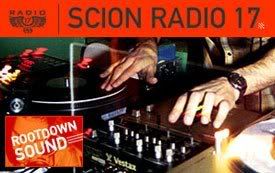 Root Down Sound Radio
on Scion Radio

Doors open @ 9pm
Free before 10pm
$5 after
**********************
Be Tee Dub -
There are a limited supply of specially priced $10 pre-sale tickets for the
July 23rd Stones Throw Artist Showcase
with
Mayer Hawthorne and The County
available now at the following locations:

701 8th Ave
San Diego, CA 92101

1537 Garnet Ave
San Diego, CA 92109

1030 Broadway
San Diego, CA 92101