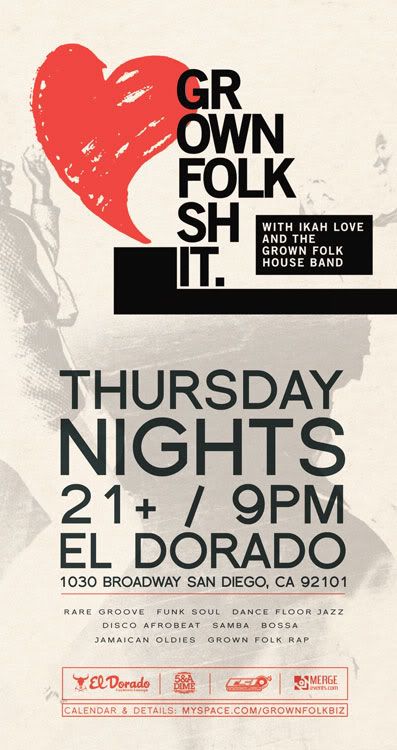 Peace kin folk. What the business? We wanted to share with you this video that our Emmy Award winning comrade Steve Sanders at
Millimeter Productions
recently finished for us.
(if the vid doesn't load due it's mad crazy super bionic quality, go
here
)
Nice right?
The guest list is open for this Thursday 7/16 featuring our extended fam
Latanya Lockett
.
RSVP to:
GROWNFOLK.RSVP@GMAIL.COM
for this week's party.
*******************
Pre-sale tickets are going fast for part 1 of our
Stones Throw Artist Showcase
next Thursday 7/23 with
Mayer Hawthorne & The County
.
If you want to get one of the limited quantity $10 pre-sale tickets, we strongly suggest you try to catch one this week at one of the following locations:

701 8th Ave
San Diego, CA 92101

1537 Garnet Ave
San Diego, CA 92109

1030 Broadway
San Diego, CA 92101
Otherwise, there will be plenty of tickets available at the door the night of the event starting at 9pm for $12.
Here's a pretty entertaining and informative interview with dude for Belgium's on-point.tv:
Merci beaucoup.