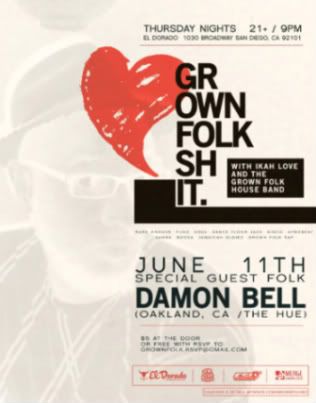 This is real special for me (no homo).
Damon Bell
has been my key brethren for many years. We used to run a sound together called
Four Corners
. Some time ago we did a Tuesday night party, for a minute, that was real official. It was more or less through that Tuesday night party that I learned how to dj. I learned a lot of valuable shit playing records week in and week out with this dude. Anyhow... Damon, or D-Bo, if you're knowin, started grinding it out all around the country a few years back. He finally ended up setting up his gates in the bay area where he runs some real nice parties with kin folk like Waajeed, Osunlade, Ron Trent and JT Donaldson.
Now look... I really don't wanna have to say this next part, but it's got to be said... Damon Bell is among the best jocs to have ever come from San Diego. I promise. Who am I to make such statements? Nobody, that's who. But I'm a still say it. You can come through the party this Thursday night and see for yourself. Holler at me for the guest list:
GROWNFOLK.RSVP@GMAIL.COM
This one's going to be proper. Real talk.