Gotta start with an obligatory shout out about the awesomeness of the last
Young Guns
. You know that something went right when you have a full house of people chanting the words to
MGMT
's 'Time To Pretend' at 130AM with the light turning on: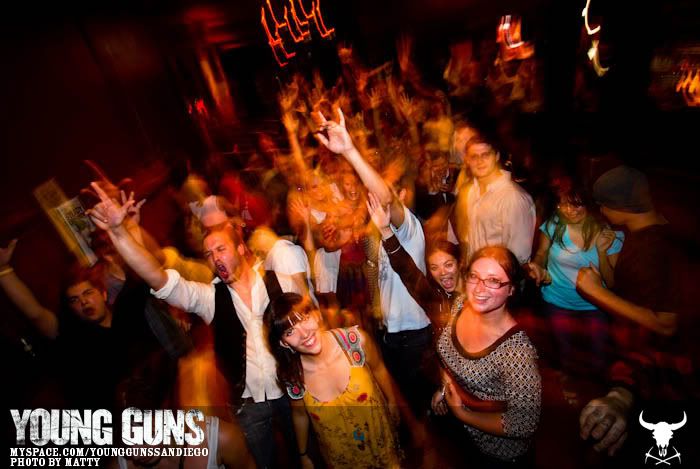 Click Here For The Full Photo Album From Last Time
Ive been getting some really positive feedback from the mini mix that I put up last time so I'm gonna try to make it a bimonthly thing. As you know these mixes tend to gravitate towards a more listenable sound i.e. a soundtrack for web surfing, mating, etc. This is my first all downtempo mix- think leftfield French Pop meets white boy American electro r 'n b. Or something. Its pretty weird so if you are looking for club, electro or nu disco mix you can find several mixes for download on
my myspace
.
Click Here To Download Young Guns Mini Mix # 2
Tracklist
1.
Hearts Revolution
- OOOOOOOOOO
2.
Metronomy
- Thing For Me (
Breakbot
Remix)
3
Sebastian Tellier
- La Ritournelle (Magic Wand Mix)
4.
Boy Crisis
- Ganglion of Lightnings
5.
Pony Pony Run Run
- Boy Girl Surrender (Summer Edit)
Last but not least
Bird Peterson
is gonna do it up real nice this saturday @ Young Guns- alot has been said about him in the post below this one but I'll just say this: Bird P is
MSTRKRFT
's favorite new dj and so he is worth checking out if you get down like that. Here's a video of MSTRKRFT dropping Bird P's Track 'The Essence' at
Coachella
2009:
Peace all, See ya Saturday
Groundfloor