Whappen kin folk? Everybody good? No pork flu? Cool...

So... In 1992/93 my super dude Joaquin Parral and I used to ride around in his yellow Volkswagen Bug and... well, do nothing really. We would just ride and listen to tapes. Joaquin and I had been in a band together a few years prior to this point. Joaq was the very first hardcore kid I knew who got real serious about hip hop and record collecting. I remember the day I walked into his room at his mom's crib where we used to rehearse and stuff, and I was looking around for his drum kit... Joaq was like, "Yo I sold my drum kit for this...". It was a used pair of 1200s and some dude's record collection Joaquin had bought from an ad in the newspaper. Riding around in that VW Bug, Joaquin put me on to a lot of stuff. For years that was the move... It was like the Hypemachine of the day. Joaquin Paral's yellow VW Bug, that was only still running because Joaq's brother in law was a Volkswagen mechanic that could keep the thing going waay past it's natural life cycle, was like the craziest music blog of 1992. If you had a couple of hours and you wanted to hear the new jawns, you'd call Joaq (who was by this time known as DJ Keen - even though I suggested the name 'Radio Joaquin' like Radio Raheem), hop in the whip and pop in a tape. The first time I ever heard 'Come Clean' was in Joaquin's ride. We drove around and listened to nothing but that song for hours, save for the time it took us to rewind the tape back to the beginning each time the track ended. I really need to give sincere thanks to my key comrade DJ Keen (CYP REP!!!) for everything that he has put me up on over the years and for everything that that knowledge has brought to my life. For real, for real.

I will, very specifically, never forget the time ol' boy played me the 'Mecca And The Soul Brother' cassette for the first time. Not to get super emo or weird about it, but hearing Pete Rock's production on that album, in a way, altered the way I listened to music for ever. Trust me, 1992 was not a bad year for hip hop... 'Daily Operation', 'Stunts, Blunts And Hip Hop', 'Sex And Violence' (all three of which may arguably represent the individual pinnacle of an artist's career)... But after really listening to 'Mecca And The Soul Brother' everything else, even some of my most favorite shit, sounded sorta

amateur

. I bugged out on that album for a very very long time. I honestly still listen to that record and 'The Main Ingredient' album, with what could most likely be considered a disproportionate frequency. I don't know how long it's been since you've listened to either of those records, but if you go pull them off the shelf right now and sit back and listen... really listen to everything that's going on in those songs... how well its all composed with the rhymes and how efficiently it's all orchestrated... if you listen hard enough, you'll hear, in my opinion, what is possibly the most rarified moment in music and art... that moment when an artist is so in tune with their craft, so in touch with the essence of what they are creating, that the artist has

become

their craft. Pete, to me,

personifies

hip hop and the craft of beat making all over those records. I truly consider Pete Rock's music, from then up till today, a gift for which I am thankful.

Alright... I'm done. Thanks for letting me share.

So, uhh... guess who the s

pecial guest folk

is this

Thursday

over at the ol' Grown Folk Shit party...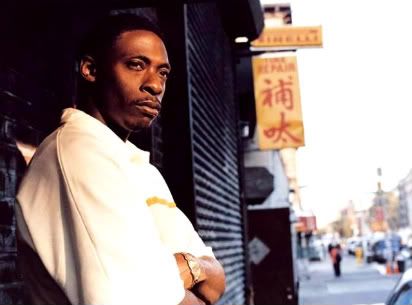 Soul Brother #1 Pete Rock, The Chocolate Boy Wonder


is coming through the El Dorado this

Thursday

for a very

special guest dj set

. We're all extremely excited about this. We decided that this very special occasion was good cause to spend effing hours on the interweb youtubing (semi)informative and (hugely)entertaining Pete Rock videos, the cream of which you now get enjoy, starting with my personal favorite...







1991 'Yo! MTV Raps' interview with Fab 5 Freddy... Pete on the beat box for a live, walking through the streets of Mount Vernon, version of 'Straighten It Out'.







Future Music Magazine interview... Pete on the MPC. Chopping Pat Benatar?







Guitar Center Sessions... Pete, 9th Wonder, Dj Revolution, DJ Nu-Mark and Just Blaze getting emo talking about 'T.R.O.Y'.







First things first, obey your thirst... Would the world be a better place if good rappers still got endorsement deals soda pop manufacturers?







INI 'Fakin' Jax'... One of my fave Pete Rock beats for one of my fave Pete Rock projects. Plus it's a classic and tasteful, mad low budget rap video.




This very special

Grown Folk Shit

party featuring guest folk

Pete Rock

is this

Thursday May 7th

at

El Dorado

.

The night will also feature resident grown ass dj

Ikah Love

plus a live set by

Ikah Love and the Grown Folk House Band

with guest vocalist

Latanya Lockett

.

The party starts at 9pm.

Tickets at the door will be:


$8 before 10pm

and


$10 after




A very limited number of $8 pre-sale tickets are available now at El Dorado, as well as the following locations:





5 & A Dime
701 8th Ave
San Diego, CA 92101
5andadime.com






California Sound & Lighting
1919 San Diego Ave
San Diego, CA 92110
calsound.com






Access Music
1537 Garnet Avenue
San Diego, CA 92109
accesshiphop.com










xoxoxo,
Grown Folk Management