Hey everyone!
DJ Groundfloor here, first of all, tip of my hat to everyone that came out to the Shark Attack party! The dance floor was full and abundant with smiles at the end of the night- a true measure of a good time. You can find the photo from that night right
here
. The Young Guns parties are shaping up to be among the best in our fine city, if you haven't come out yet, we've got a great party lined up for you this saturday!
In sync with San Diego Fashion Week, we bring you the official Fashion Week Closing Party for those who know. Our guest entertainers for the night are two girls from LA that have made their mark on both the fashion and music industry. Marylouise Pels and Vanessa Giovacchini are collectively know as Posso, a forward thinking fashion lifestyle brand and a cutting edge DJ collective. They are perhaps most well known in the fashion industry for resurrecting the popularity of the
Spat
, a now sought-after vintage fashion accessory. In recent times they've made their mark on the music world, DJing at amazing parties alongside Cut Copy, Them Jeans, Steve Aoki, LA Riots, and many others. Posso will join us this Saturday for a party you won't want to miss.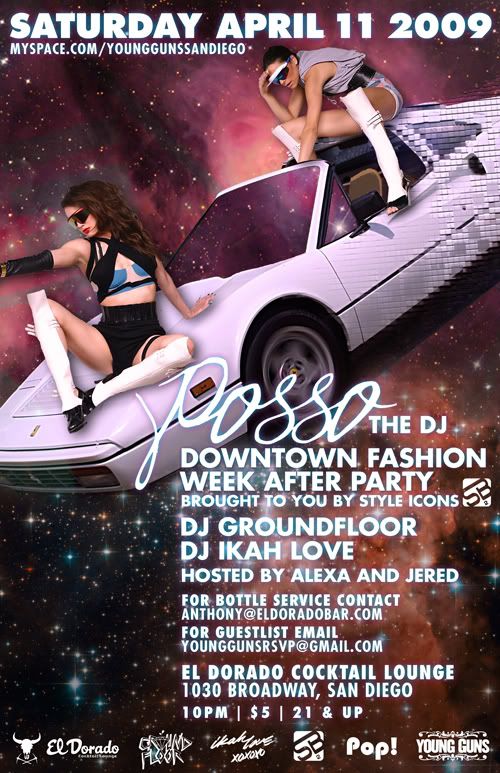 Lastly, if your on the 'space feel free to stop by and say hi!
www.myspace.com/younggunssandiego
See ya soon!!
DJ Groundfloor