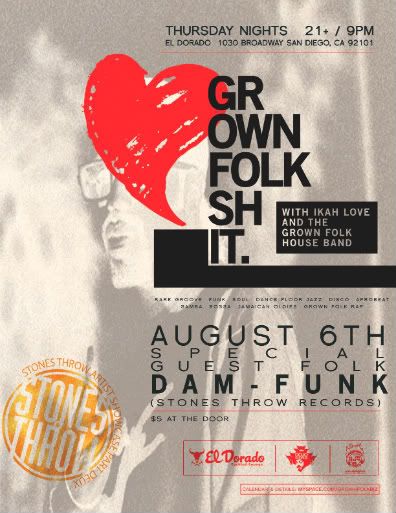 Say kin folk?
This week at
Grown Folk Shit
we are proudly presenting the 2nd installment of our
Stones Throw Artist Showcase
series, featuring LA's
Dãm-Funk
.
Evidently this brethren has been putting in work on the keyboards around LA for sometime, but now dude is set to really
really
do it this year with the release of his debut album
"Toeachizown"
. The album will be released this fall on Stones Throw as a
5 LP set
!
That's two and a half hours of music
! C'mon now... by no stretch of the imagination, is dude playing games.
(photo by
Shaun Bloodworth
from his recent photo essay
"LA Dope"
)
Dãm-Funk is
at least
two beasts in one -
First of all, your man is putting out the craziest, most focused music. Peep his output over the last year (it's all available at the Stones Throw
online store
) and you'll get the sense that this is an artist who is so bout what he's doing that it would be a just wrong for him to be doing anything other than
what he's doing
. Following a series of 12"s and remixes (including most recently his remix of 'Summertime Clothes' by Animal Collective) Dãm has just released the first two volumes of recordings that will comprise his debut LP. The first volume is titled
"LAtrik"
and features just about the coldest cover art you could ever imagine.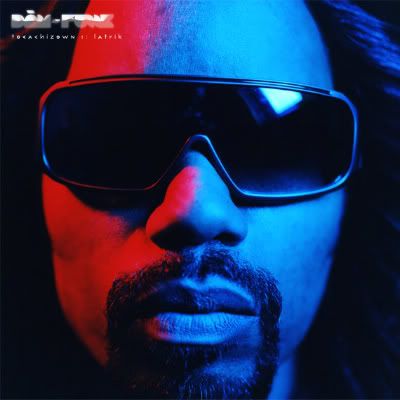 Dãm on the sound of this volume:
"LAtrik is more of my 'electric style' (hence the title of this volume)..."
The just released second volume is titled
"Fly"
and has yet, colder cover art.
"They're joints that U can roll 2. Let your hair down 2. Vibe with a lady 2 (or vice-versa), + stay 'fly' 2. I know there's still some fly ladies & gentlemen out there... 4 U. - D-F "
There's a free download of the song
"10 West"
from this volume over on the
stonesthrow.com newsfeed
. Here's a bootleg youtube vid for the song, that we personally love...
Yo it's mad bootleg, but it's so nice... Those slick ass long exposure postcard-from-LA shots of the 10 freeway headed into downtown... It's like a trailer for lost Bret Easton Ellis film adaptation staring Prince instead of Andrew McCarthy.
Okay, so as a recording artist, Dãm-Funk seems to be really striving for something uncommon and earnest. Big up yourself for that duke.
Then, you have Dãm-Funk the DJ and record collector, at which both disciplines he appears to have super game. Ol' boy is getting his dj sets reviewed in the
New York Times
... He's got radio shows and mixes coming out all over the world, from places like the
BBC
and
stussy.com
... He currently has the most butteryest show up on the
Stones Throw Podcast
... Plus he holds down a regular LA party called
"Funkmosphere"
.
Man, if everybody's party promo was this fly...
Possibly my favorite part about this brother is evidenced, in part, in the video below.
"... my mission is to give homage and respect to the elders that brought funk down to us... you can't forget about this magical music... It's the people's music..."
Yo, money has like the best attitude ever demonstrated by a musician, and I fully trust that dude is speaking from the heart. And to top everything off... A synth metal project?!?! So cold!
Special dedication to the entire Stones Throw camp (Jamie I see you!) for supporting forward cats like this and for making this Thursday's party possible.
xoxoxo,
GFM

Thursday August 6th, 2009
Grown Folk Shit / Stones Throw Artist Showcase #2:
w/ Dam-Funk

$5 at the door

Doors open at 9pm